Formal sessions and social activities will take place from lunchtime on Thursday 20 September to lunchtime on Saturday 22 September. Unless indicated otherwise, all components will take place in the Faculty of English:
Thursday 20 September
Friday 21 September
Refreshments available on arrival (Main Foyer)
9.00-10.45am Panel 3. Chair: Rhodri Lewis (Lecture Theatre 2)
Howard Hotson (University of Oxford), Cultures of Communication in an Age of Crisis: The Many Layered Network of Samuel Hartlib

Jan Loop (University of Kent/Warburg Institute), Clandestine Inter-Library Loans: Johann Heinrich Hottinger (1620-1667) and his Troubles with the Koran

10.45-11.00am Coffee (Main Foyer)
11.00-12.30pm Panel 4. Chair: Anthony Grafton (Lecture Theatre 2)
Anthony Milton (University of Sheffield), Epistolary Networks and the Manufacturing of International Reformed Opinion in the Mid-Seventeenth Century
Nick Hardy (University of Oxford), Old Testament Criticism in the Confessional Republic of Letters
12.30-1.30pm Buffet Lunch (Main Foyer)
1.30-3.45pm Panel 5. Chair: Mordechai Feingold (Lecture Theatre 2)
Florence C. Hsia (University of Wisconsin-Madison), Communication, Community, Corpus: Epistolary Print Cultures and the Society of Jesus
Sarah Rivett (Princeton University), Learning to Write Algonquian Letters: Conversion, Communication, and Translation in the Seventeenth-Century Jesuit and Protestant Atlantic World
Will Poole (University of Oxford), Epistolary Contacts between England and China in the Restoration
3.45-4.15pm Tea (Main Foyer)
4.15-5.45pm Panel 6. Chair: Ian Maclean (Lecture Theatre 2)
Leigh Penman (Goldsmiths, University of London), In statu Exulii: The Networks of the Amsterdam Printer Hans Fabel (1616-after 1650) and the Impact of the Thirty Years' War
Paul R. Quarrie (Maggs Bros Ltd, London), What Types of Information can Letters Provide for the Book Historian and Bibliographer?
6.00-7.30pm Drinks Reception (Divinity School, Bodleian Library)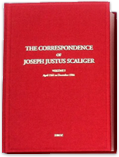 Celebrating the publication of The Correspondence of Joseph Justus Scaliger (Editors: Paul Botley and Dirk van Miert. Editorial coordination: Henk Jan de Jonge, Anthony T. Grafton, and Jill Kraye). 8 vols, Geneva (Droz) 2012. Reception generously sponsored by the Cultures of Knowledge Project and Droz. Find out more!
8.00pm Conference Dinner (Wordsworth Room, St Hugh's College)
Saturday 22 September